Credit by Examination
No Prior Instruction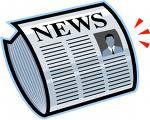 June Credit by Exam dates have been cancelled.
Next testing dates are July 10 and 11, 2020.
Deadline to register is May 29, 2020.
Fall testing dates will be posted soon.edit by Examination for Acceleration testing dates for 2019-2021
Please call Lisa Taylor, Kathy Harvey, or Vicki Lawson at 940-322-6928 or email lisa.taylor@esc9.net , kathy.harvey@esc9.net, or vicki.lawson@esc9.net if you have questions.